How to Benefit from 4 Trends that Are Reshaping the Mortgage Industry
60 minutes
Will technology eventually replace loan officers? How about processors and underwriters? Will we need appraisals in the future? What kind of experience will borrowers prefer? Which kind of companies will survive, which ones will thrive, and which ones will fall by the wayside?
Find out about the biggest trends reshaping the mortgage industry that will have a profound impact on how you work. Getting ahead of some of these trends can help ensure companies find themselves in the "thriving" category instead of the "dying" category in the years to come.
LOs, managers, and company executives will find this session useful.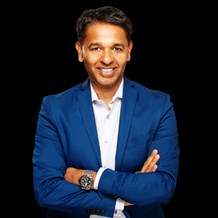 Shashank Shekhar
This dramatic growth has been built on the pillars of legendary customer service and unrelenting focus on education. Shashank lives and breathes the mantra "We are in the customer service and education business, we just happen to do mortgages."
Amazon.com #1 best-selling author Shashank is widely regarded as "America's Premier Mortgage Expert". He is the expert guest of TV and radio show - "Mortgage Matters" and author of widely acclaimed books - "First Time Home Buying 101", "Real Estate Unleashed" and latest #1 best-seller"My First Home".
Besides writing one of the top mortgage blogs in the country, Shashank also gets invited to blog on several of the top mortgage and real estate websites. He has been quoted/featured on Yahoo! News, FOX Radio, Washington Post, Bankrate.com, Financial Times (London), and several other media for his expertise. He was interviewed by Emmy Award-winning director Nick Nanton on his TV show.
Rethink your approach to social media! Coach Kyle Draper has 5 strategies for changing the way you use social media – register now to save your seat.