It's been well documented that we have a shortage of housing in the U.S. Contributing to that is the fact that new home building has not kept pace with demand for over a decade. There are several reasons for the slowdown in new home construction, including zoning laws, land development expenses, labor and material shortages, and the supply side disruption that has occurred over the last 2 years.
Despite that, community banks are key contributors to home building efforts. Let's look at 4 ways they're making a difference.
1. Banking services for buyers and builders
Not only do community banks work with new home buyers to provide mortgage financing for the construction of their dream homes, but they also provide banking services to local builders and other important cogs in the community wheel, including businesses and workers.
Dive deeper: See how 3 community banks have grown their construction portfolios.
2. Loan options to suit buyers' needs
More specific to individual homes, community banks offer loan programs that finance both the construction financing and permanent loan in one transaction. These loans, often referred to as single-close construction loans, provide savings, simplicity, and certainty to borrowers. And they offer options to both first-time homebuyers and move-up buyers.
Take a closer look: Discover how to rethink MI to broaden your borrowers' financial options so they find the loan – and home – that works best for them.
3. New construction boosts economies
Trading Economics recently reported that housing starts in the U.S. surged 6.8% month-over-month to a seasonally adjusted annualized rate of 1.769 million in February 2022, the highest since June 2006, and well above market forecasts of 1.69 million.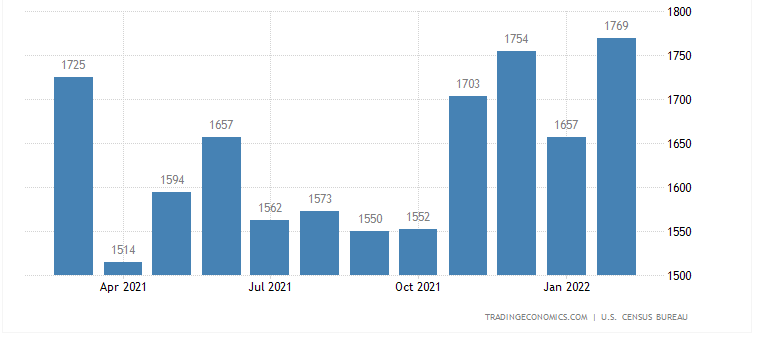 Home building activity provides important economic fuel to communities. According to the National Association of Home Builders (NAHB), the estimated one-year impacts of building 100 single-family homes in a typical local area include:
$28.7 million in local income
$3.6 million in taxes and other revenue for local governments
394 local jobs
These local impacts represent income and jobs for residents of an average metropolitan area or nonmetropolitan county, and other sources of revenue, including permit fees, for all local jurisdictions. Local residents who earn money from construction activities are likely to spend part of it within the community driving additional economic growth.
Additionally, recurring impacts of building 100 single-family homes in a typical local area include:
$4.1 million in local income
$1.0 million in taxes and other revenue for local governments
69 local jobs
These additional economic energizers result from folks living in these new homes, paying taxes and participating in the local economy year after year.
See the stats: NAHB calculates what building 1,000 homes means to the U.S. Economy.
4. MI helps community banks offer low-down-payment loans
Many community banks partner with MGIC to provide low-down-payment options for construction loans. These options provide important access to homeownership. And homeownership is often the primary path to building wealth and financial security for families.
The median new home sales price in January 2022 was $423,300, according to Federal Reserve Bank of St. Louis. Many new home buyers don't realize low-down-payment options are available. For comparison purposes, a 20% down payment would require nearly $85,000 from the borrowers, plus applicable closing costs. With 10% down, this shrinks to nearly $42,000. And even lower down payments are available to qualified borrowers.
Homes and communities don't just appear overnight
And typically, neither does financial security. They take long-term commitment and dedication. For 65 years, community banks have partnered with MGIC to help make the dream of homeownership possible. And today that includes options for community members to build new homes with as little as a 3% down payment.
We will continue to overcome today's homebuilding challenges because we share a foundation with community banks that will sustain. One family at a time, together we'll remain focused on providing opportunities to build stronger communities.
Build your competitive edge: Watch this 45-minute recorded webinar to gather the latest insights on construction and renovation lending.