April is Community Bank Month! This month we're spotlighting how community banks support homeownership. MGIC partners with thousands of community banks to help customers finance their version of the American Dream.
According to the FDIC, there are over 4,500 community banks across the country. The majority are partners of MGIC. And we're proud of that.
The foundational element of our partnership is our shared support of homeownership. Homeownership forms the fabric of communities. We recognize it as an integral part of the American Dream. To promote homeownership, community banks often play the roles of mortgage loan originator, long-term note holder and loan servicer. They do this because they believe. They believe in providing opportunities and they believe that their customers will succeed in homeownership.
And what does that belief mean? Certainly, the ability of their community members to make mortgage payments and maintain their properties. Our community bankers also understand that for most people, a house is a home – a place to grow, and a place to build families and neighborhood relationships. A place to lift the community.
Another aspect of our partnership is shared experience. Looking at a short list of our community bank partners that lead in mortgage lending, their average age is 82 years old. And that also means something. It demonstrates our community bank partners' commitment to their communities and perseverance through boom and bust cycles. That type of legacy also exists at MGIC, the inventor of private mortgage insurance in 1957. We've been through these cycles together and plan to be around for many more.
There are many ways beyond traditional banking activities that community banks support their local community members, such as providing:
Educational opportunities
Safer homes
Red Cross support
Dental care
Financial literacy
Housing project support
Intellectual and developmental disability assistance
Here, again, we have ties that bind. MGIC is similarly committed to its community and supports the United Way, the United Performing Arts Fund, Habitat for Humanity, SecureFutures and Junior Achievement, among other organizations.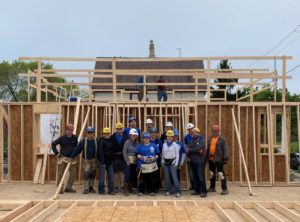 Pictured above: MGIC employees volunteer their time for a Habitat for Humanity new home build.
Together, community banks and MGIC have partnered to help hundreds of thousands of families finance their version of the American dream over the last decade. And together, as partners, we'll strive to continue to build on that important legacy.