"We are more alike than we are different": Creating an inclusive workplace – Episode 20
Amber Lawrence, Associate Vice President of Diversity, Equity, and Inclusion for the Mortgage Bankers Association
"We are more alike than we are different": Creating an inclusive workplace
This week on Mortgage Connects, we sit down for a conversation with Amber Lawrence, Associate Vice President of Diversity, Equity, and Inclusion for the Mortgage Bankers Association or the MBA. Amber develops organizational-wide diversity and inclusion framework goals and equitable practices for the MBA, including member-facing DEI initiatives. We discuss:
Why companies that are more diverse are likely to financially outperform their peers and have higher revenue due to innovation
Why it's critical that organizations incorporate DEI practices into workplace policies and culture
The MBA's mission to foster a culture of DEI practices within the real estate and finance industry
The Home for All Pledge, an action pledge to promote inclusion in housing
Amber's belief that staying educated and informed is the best approach to embracing DEI and creating an environment of authenticity
Episode breakdown:
Can you tell us why it's so important for organizations today to focus on their diversity and inclusion efforts? (1:23)
The MBA has developed the 5 Pillars of DEI. Can you explain how these play a role in the diversity efforts of your organization, both internally and externally? (3:23)
How did the Home for All Pledge come to be? What are participating companies doing, and how can someone sign up? (6:59)
How can employees best support their company's DEI efforts? (9:53)
How has your work been influenced or enhanced by diverse experiences? (12:27)
What's the most challenging aspect of working in a non-diverse environment, and what would be the best way to overcome those challenges? (14:13)
What advice would you give individuals who are eager to do more to support their company's organizational efforts tied to diversity and inclusion? (16:16)
The opinions and insights expressed in this Q&A are solely those of its interviewee and do not necessarily represent the views of either Mortgage Guaranty Insurance Corporation or any of its parent, affiliates, or subsidiaries (collectively, "MGIC"). Neither MGIC nor any of its officers, directors, employees or agents makes any representations or warranties of any kind regarding the soundness, reliability, accuracy or completeness of any opinion, insight, recommendation, data, or other information contained in this blog, or its suitability for any intended purpose.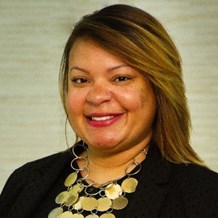 Amber K. Lawrence, Associate Vice President – Diversity, Equity, and Inclusion, Mortgage Bankers Association
Amber Lawrence has over 15 years of experience as a real estate/mortgage finance and non-profit association professional. Currently, she serves as Associate Vice President of Diversity, Equity, and Inclusion for the Mortgage Bankers Association (MBA). In her current role, she is responsible for developing organizational-wide diversity and inclusion framework, goals, and equitable practices, as well as member-facing DEI initiatives.
In her previous capacity with the MBA, she was a core member of MBA Education's leadership team. She managed its professional certification and designation programs – notably, the Certified Mortgage Banker (CMB®) program. In this capacity, she was responsible for candidate matriculation, curriculum development, examination processes and served as the primary liaison for the Society of Certified Mortgage Bankers. She was also responsible for managing the full suite of MBA Education's Residential & Commercial designation programs, provided oversight on the facilitation of several MBA Education courses and professional development programs, including MBA's premier classroom program, School of Mortgage Banking (SOMB), and Future Leaders program.
In 2021, Amber completed the Executive Certification in Diversity Coaching, offered in partnership with Howard University and the Coach Diversity Institute. She is a graduate of Howard University with a B.A. in Legal Communication.
Subscribe to our blog: The latest from MGIC Connects, straight to your inbox!
Sign up to receive regular content from MGIC Connects, our mortgage industry blog and home of MGIC's Mortgage Connects podcast. Our experts share their insights beyond private MI to help readers learn about mortgage finance, housing trends, mortgage education initiatives, real estate news, social media and more.
Rethink your approach to social media! Coach Kyle Draper has 5 strategies for changing the way you use social media – register now to save your seat.