Diversity and inclusion: Connecting with the Asian American demographic
To honor and celebrate Asian American Pacific Islander Heritage Month, we interviewed Sean Phalon, Asian Real Estate Association of America (AREAA) Vice Chair, to shed some light on diversity in both his personal life and professional life. Tune in to gain better insight on what matters when working with the Asian community.
Episode breakdown:
Tell us about your involvement with the AREAA. (1:03)
Why is diversity important in the workplace and how do you incorporate it in your day-to-day? (2:50)
How has your cultural background played a role in your personal life and professional life? (4:45)
In May we celebrated Asian American Pacific Islander Heritage Month. What does being Asian mean to you? (6:31)
What insight can you provide in working with the Asian community demographic? (8:18)
Looking back at your professional trajectory, what advice would you give your younger self and why? (14:52)
The opinions and insights expressed in this Q&A are solely those of its interviewee and do not necessarily represent the views of either Mortgage Guaranty Insurance Corporation or any of its parent, affiliates, or subsidiaries (collectively, "MGIC"). Neither MGIC nor any of its officers, directors, employees or agents makes any representations or warranties of any kind regarding the soundness, reliability, accuracy or completeness of any opinion, insight, recommendation, data, or other information contained in this blog, or its suitability for any intended purpose.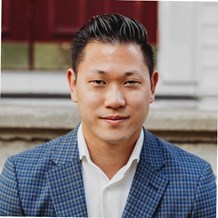 Sean Phalon, 2019-2020 AREAA National Mortgage Committee Chair
Sean started in the finance world at the age of 19 and, since then, has built up a diverse and strong background in the industry. This includes experience in structuring business growth, private equity financing, and mortgage lending. Since then, he has grown several teams in both the private equity and traditional lending markets. As a serial entrepreneur, Sean also started and manages several holdings groups that focus on real estate acquisition and development. Sean's focus on real estate has also launched the founding of several RE-based technology ventures with the mission of streamlining the real estate process. He currently resides in the Gold Coast of New Jersey and enjoys traveling and continuing to invest in various business ventures.
Subscribe to our blog: The latest from MGIC Connects, straight to your inbox!
Sign up to receive regular content from MGIC Connects, our mortgage industry blog and home of MGIC's Mortgage Connects podcast. Our experts share their insights beyond private MI to help readers learn about mortgage finance, housing trends, mortgage education initiatives, real estate news, social media and more.
Rethink your approach to social media! Coach Kyle Draper has 5 strategies for changing the way you use social media – register now to save your seat.