Is your social presence up to regulatory snuff? - Episode 9
Melissa Thomas, Head of Compliance at ActiveComply
Is your social presence up to regulatory snuff?
There's quite the buzz around "social media" and the importance of using it on a regular basis to grow your digital platform,
but are you using it correctly from a regulatory standpoint? Melissa Thomas from ActiveComply discusses the do's and don'ts to keeping your social media profiles and posts compliant.
Episode breakdown:
Can you tell us a bit about your company, ActiveComply? (0:40)
From a compliance perspective, what's essential to feature on your social profile? (2:31)
Can you give us an idea of common pitfalls you've seen when it comes to social media compliance? (5:44)
What are items an individual poster should be conscious of from their organization's viewpoint? (11:28)
Why should companies monitor their social media presence? (13:25)
What industry social media horror stories come to top of mind? (16:29)
What's one of the biggest surprises regarding social media that you've seen or heard in the last few months, and why? (19:34)

The opinions and insights expressed in this Q&A are solely those of its interviewee and do not necessarily represent the views of either Mortgage Guaranty Insurance Corporation or any of its parent, affiliates, or subsidiaries (collectively, "MGIC"). Neither MGIC nor any of its officers, directors, employees or agents makes any representations or warranties of any kind regarding the soundness, reliability, accuracy or completeness of any opinion, insight, recommendation, data, or other information contained in this blog, or its suitability for any intended purpose.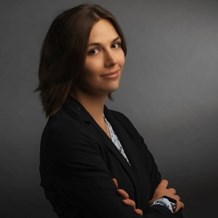 Melissa Thomas, Head of Compliance at ActiveComply
Melissa Thomas is Head of Compliance at ActiveComply, a cloud-based software that allows lenders to monitor employee social media for compliance and brand protection. Melissa actively works with lender partners to develop and execute social media policies and procedures to fit their needs. Melissa has acted as a social media compliance panelist for The Mortgage Collaborative, HousingWire, and other financial industry publications. Melissa has acted as a compliance data analyst for a top 20 independent mortgage company, where she worked directly with regulatory and state examiners, compiled and analyzed fair lending and call report data, and performed extensive legal research.
Subscribe to our blog: The latest from MGIC Connects, straight to your inbox!
Sign up to receive regular content from MGIC Connects, our mortgage industry blog and home of MGIC's Mortgage Connects podcast. Our experts share their insights beyond private MI to help readers learn about mortgage finance, housing trends, mortgage education initiatives, real estate news, social media and more.
Rethink your approach to social media! Coach Kyle Draper has 5 strategies for changing the way you use social media – register now to save your seat.