Education is key to boosting Black homeownership rates in America today - Episode 17
Lenny McNeill, Executive Vice President, U.S. Bank Home Mortgage
Education is key to boosting Black homeownership rates in America today
Joining us for this episode is special guest host Elyse Mitchell, MGIC's Vice President of National Accounts. Elyse interviews Lenny McNeill, Executive Vice President of U.S. Bank Home Mortgage. Lenny has more than 35 years of service in the finance industry and has held executive and senior leadership roles in both banking and mortgage. His knowledge and expertise in sales development, multicultural lending strategies, and implementation allow him to address housing, sustainability and affordability issues on a national level.

In this episode, Lenny shares:
Why it's important for companies, organizations and lenders to maintain a diverse perspective when it comes to homeownership and the homebuying process
How educational initiatives and knowledge of the homebuying process can boost homeownership rates and strengthen communities that have an ethnically diverse footprint
The importance of staying connected to your community if you truly want to make a difference
His personal recollection of the time he first perceived himself to be "different" as a Black American – which led to his drive and passion today to be a voice for those who might not have one
Episode breakdown:
Can you tell me why it's so important that companies, organizations and lenders maintain a diverse perspective, especially when it comes to the homeownership process? (2:05)
Last year, U.S. Bank launched the "U.S. Bank Access Commitment" approach, with an overall focus on increasing homeownership education. Can you tell me more about this commitment and how it'll help racially diverse communities? (6:08)
We talk about solutions to combat the challenge of the lack of homeownership within diverse communities, but what do you think the root of the problem is? (11:39)
Let's narrow the focus a bit more to the Black community. What would you say their biggest struggle to obtaining homeownership is, and what can lenders do to help? (16:34)
U.S. Bank is a big supporter of NAMMBA and NAHREP. Why do you think it's so important for lenders to partner and support organizations that foster diversity and inclusion within mortgage lending? (22:58)
I read an interview about when you were 11 years old and your parents were trying to buy a house. You described it as the first time you realized you were different. Share with me how you felt at that time, and how did it inspire you to make a difference to others? (27:40)
You've been quoted as saying, "If you've lived, but all you've ever done is live, then you really haven't lived." What does that mean to you? (37:21)
The opinions and insights expressed in this Q&A are solely those of its interviewee and do not necessarily represent the views of either Mortgage Guaranty Insurance Corporation or any of its parent, affiliates, or subsidiaries (collectively, "MGIC"). Neither MGIC nor any of its officers, directors, employees or agents makes any representations or warranties of any kind regarding the soundness, reliability, accuracy or completeness of any opinion, insight, recommendation, data, or other information contained in this blog, or its suitability for any intended purpose.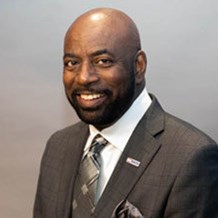 Lenny McNeill, U.S. Bank Home Mortgage Executive Vice President
Lenny McNeill is the National Managing Director and Executive Vice President for U.S. Bank's Consumer Lending businesses. As a member of the executive leadership team McNeill oversees the strategy, development, and implementation of the affordable lending sales process and expansion of enhanced product offerings catering to the diverse U.S. Bank client base, as well as ensuring compliance with regulation in the mortgage lending space. As a 32-year mortgage banking professional, McNeill leverages his unique expertise in the development of affordable lending programs to support U.S. Bank's multicultural lending strategy. His vast experience has helped U.S. Bank build sales distribution and strategic partnerships, apply advanced market analytics and support regulatory compliance to benefit the bank across business lines.
Subscribe to our blog: The latest from MGIC Connects, straight to your inbox!
Sign up to receive regular content from MGIC Connects, our mortgage industry blog and home of MGIC's Mortgage Connects podcast. Our experts share their insights beyond private MI to help readers learn about mortgage finance, housing trends, mortgage education initiatives, real estate news, social media and more.
Rethink your approach to social media! Coach Kyle Draper has 5 strategies for changing the way you use social media – register now to save your seat.