A sneak peek at insights from MGIC's latest Loan Originators Survey Report – Episode 23
Stephanie Budnik, Senior Business Partner, MGIC
A sneak peek at insights from MGIC's latest Loan Originators Survey Report
We take a look at the findings from MGIC's annual Loan Originators Survey Report with Stephanie Budnik, MGIC Senior Business Partner.
We surveyed loan originators to learn:
Where LOs focus their outreach efforts
The top marketing mediums for originators
How LOs overcome the challenges facing borrowers over the past year
How LOs generate referrals
Episode breakdown:
Survey findings and participants (0:32)
Where do LOs focus their outreach efforts on? (1:18)
Top 3 marketing mediums for originators (1:46)
Is social media a successful marketing tool? (2:38)
How did originators overcome the challenges facing borrowers in the last 12 months? (4:06)
Generating referrals with individuals (5:22)
Challenges the Loan Originators Survey Report faced this past year (7:28)
Common business goals originators have for the future (8:16)
The opinions and insights expressed in this Q&A are solely those of its interviewee and do not necessarily represent the views of either Mortgage Guaranty Insurance Corporation or any of its parent, affiliates, or subsidiaries (collectively, "MGIC"). Neither MGIC nor any of its officers, directors, employees or agents makes any representations or warranties of any kind regarding the soundness, reliability, accuracy or completeness of any opinion, insight, recommendation, data, or other information contained in this blog, or its suitability for any intended purpose.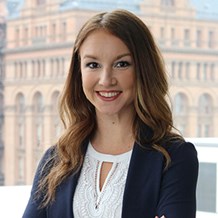 Stephanie Budnik, AMP – MGIC Senior Business Partner, National Accounts
Stephanie Budnik is a Senior Business Partner who works with MGIC's National Accounts team to develop strategies to support our valued customers as well as our field sales team.
Stephanie joined MGIC in 2015 and has worked in sales and marketing. She has over 12 years of sales experience and 16 years of training experience in a variety of topics. Her background in education allows her to utilize those skills to deliver messaging that meets diverse working styles.
Stephanie has received her Accredited Mortgage Professional certification through the MBA. She is a proud graduate of the University of Wisconsin-Whitewater, having earned her B.S. in Education.
Stephanie and her husband, Andrew, are Wisconsin natives who have a son named Owen, 2 daughters named Olivia and Elena, and a dog named Hank.
Subscribe to our blog: The latest from MGIC Connects, straight to your inbox!
Sign up to receive regular content from MGIC Connects, our mortgage industry blog and home of MGIC's Mortgage Connects podcast. Our experts share their insights beyond private MI to help readers learn about mortgage finance, housing trends, mortgage education initiatives, real estate news, social media and more.
Rethink your approach to social media! Coach Kyle Draper has 5 strategies for changing the way you use social media – register now to save your seat.