How lenders can support multicultural growth and incorporate diversity in the workplace - Episode 11
Edgar Hernandez, Senior Manager in the Multicultural Center of Expertise (MCOE), CUNA Mutual Group
How lenders can support multicultural growth and incorporate diversity in the workplace
Edgar Hernandez is a Senior Manager in the Multicultural Center of Expertise (MCOE), CUNA Mutual Group.
We chat with him about how simplicity and transparency can help create trust with consumers, especially in underserved markets. He discusses how lenders can support multicultural growth within their organization, being mindful of peer and management diversity in the workplace, as well as how to use job postings to attract diverse talent to your organization.
Episode breakdown:
What does it mean to be a multicultural strategy manager at CUNA Mutual Group? (1:50)
Can you talk about some of the obstacles underserved consumers face, and ways lenders can better serve them? (5:17)
How does CUNA support diversity, not only in the workplace but also in the community? (13:27)
What advice can you give lenders who are in the early stages of incorporating diversity into their workforce? (17:23)
We're celebrating Hispanic Heritage Month at MGIC. Can you tell me more about where you're from? (24:32)
The opinions and insights expressed in this Q&A are solely those of its interviewee and do not necessarily represent the views of either Mortgage Guaranty Insurance Corporation or any of its parent, affiliates, or subsidiaries (collectively, "MGIC"). Neither MGIC nor any of its officers, directors, employees or agents makes any representations or warranties of any kind regarding the soundness, reliability, accuracy or completeness of any opinion, insight, recommendation, data, or other information contained in this blog, or its suitability for any intended purpose.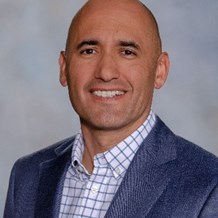 Edgar Hernandez, Senior Manager in the Multicultural Center of Expertise (MCOE), CUNA Mutual Group
Edgar Hernandez is a Senior Manager in the Multicultural Center of Expertise (MCOE), CUNA Mutual Group. The MCOE analyzes data to better understand underserved consumers; develops strategies and new products to retain and attract CU members; and builds coalitions with other entities that support similar efforts. Prior to this role, Edgar worked for Delve, a top-tier innovation firm that uses design-thinking and engineering to help companies launch new products. He also spent a decade working at American Family Insurance in their Market Research, Customer Experience, and Innovation teams. He received his bachelor's degree in Finance from Iowa State; his MBA from UW-Madison; and a Certificate in Strategic Decision and Risk Management from Stanford. In his spare time Edgar enjoys dancing Argentine tango; volunteering as a bilingual financial coach; and spending time with his family and church.
Subscribe to our blog: The latest from MGIC Connects, straight to your inbox!
Sign up to receive regular content from MGIC Connects, our mortgage industry blog and home of MGIC's Mortgage Connects podcast. Our experts share their insights beyond private MI to help readers learn about mortgage finance, housing trends, mortgage education initiatives, real estate news, social media and more.
Rethink your approach to social media! Coach Kyle Draper has 5 strategies for changing the way you use social media – register now to save your seat.